We are visited daily by more than 20 000 users!
Our service has more than 670 000 hits per month!
Until now we were visited by more than 17 500 000 users!
More then 10 000 posts (since october 2009 until december 2015)
Our Facebook fanpage has more then 36 000 fans!
Data are from Google Analytics and Facebook.

* * *
Do not hesitate! Take advantage of our promotional advertisement offers and showcase yourself to our Readers!
Learn about our advertising and promotional packages and please contact us at reklama@bridelle.pl

* * *
Why advertise on Bridelle?
Bridelle is the first blog in Poland devoted to the presentation of the best wedding companies and exceptional weddings. Journal is run by the most eminent professionals connected with the wedding industry. Our experience and knowledge are a guarantee of the accuracy of published materials. Bridelle is an exclusive place; there is no possibility of self-placement of entries from unverified companies. Portal's editors determine which companies are presented on the blog.
Month after month we note the growing interest on the part of our female readers. We guarantee daily editing of the blog, which translates into loyal readers who keep track of new entries regularly. Every day, five days a week, new articles related to the wedding industry are published. We guarantee a minimum weekly number of posted entries – now it is more than 25 posts. On a monthly basis it is more than 100 articles! We are constantly expanding the assortment of the presented products and services.
Each department is run with great care and regularity. Posts presented in them relate to Polish and foreign companies selected by the editor in chief and to offers of reliable suppliers and contractors, sent by the readers.
* * *
Who is the Bridelle's reader?
A Bridelle's reader is a future Bride, who is preparing for a wedding, for whom this day has to be unique and beautiful! Her aim is to organize an unforgettable event. Bridelle's reader is usually a large city resident, educated, aged 20 to 35 years, working or self-employed. She uses the Internet every day, is open to new ideas and original solutions. She spends more than the average on her wedding. Looking for the best suppliers and contractors. She is willing to pay more for certain products and services, if they guarantee the highest quality and design.
Statistically, 90% of Bridelle readers, plan their wedding in the nearest or the next calendar year. Often, when using our presentations and ideas, our readers print out the pages, which enhances the effectiveness of advertisements placed.
* * *
Do not hesitate! Take advantage of our promotional advertisement offers and showcase yourself to our Readers!
Find out what forms of advertising are on offer.
* * *
MINI BOX / HEADER

125 px x 125 px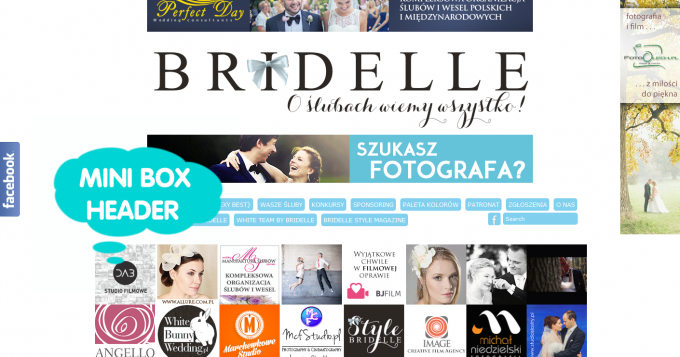 * * *
XXL BOX / HEADER

800 px x 100 px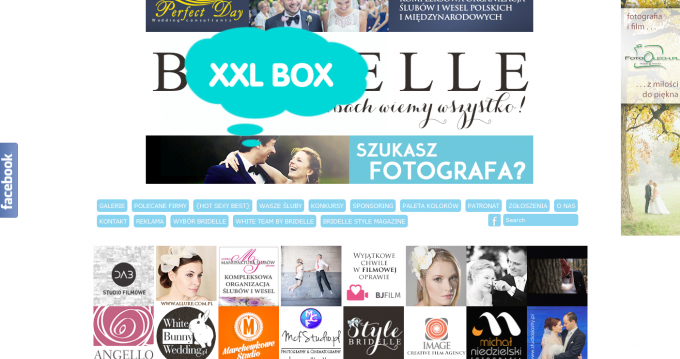 * * *
RIGHT BOX / MAIN PAGE

130 px x 490 px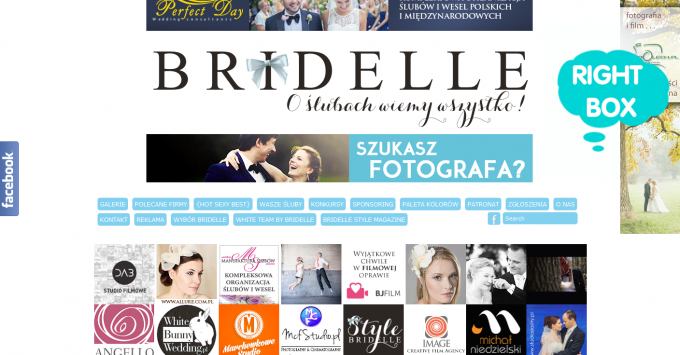 * * *
GIANT BOX / MAIN PAGE

300 px x 600 px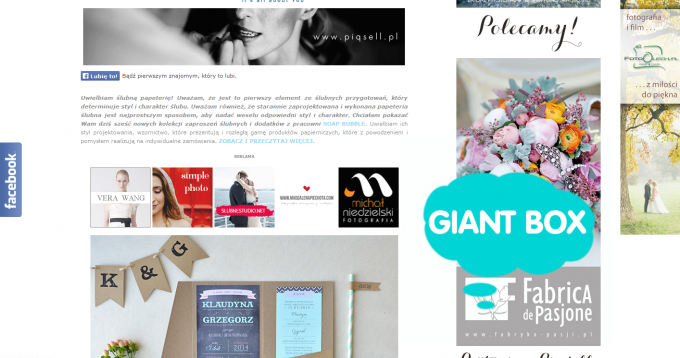 * * *
POST BOX / BELOW TEXT IN EACH POST

670 px x 120 px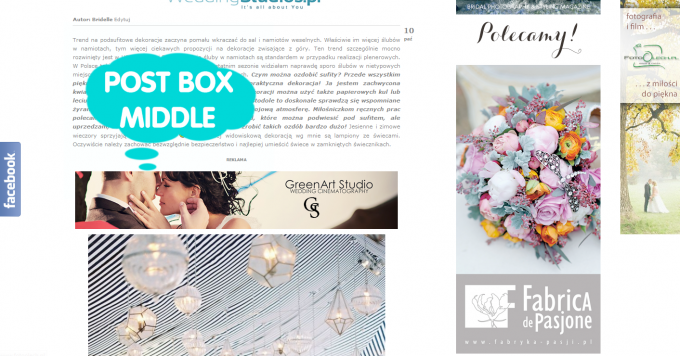 * * *
POST BOX / TOP IN EACH POST

670 px x 120 px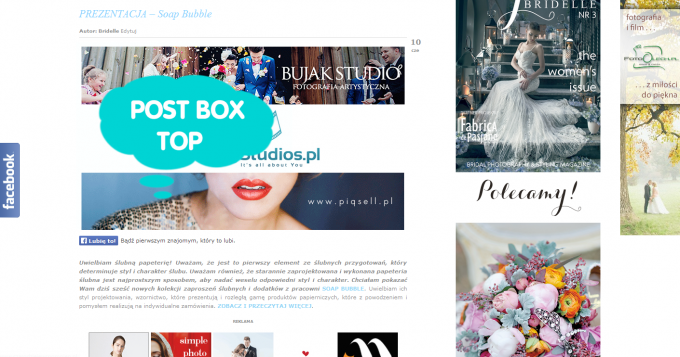 * * *
POST BOX / DOWN IN EACH POST

670 px x 120 px

* * *
OUR PARTNERS BOX / MAIN PAGE

300 px x 300 px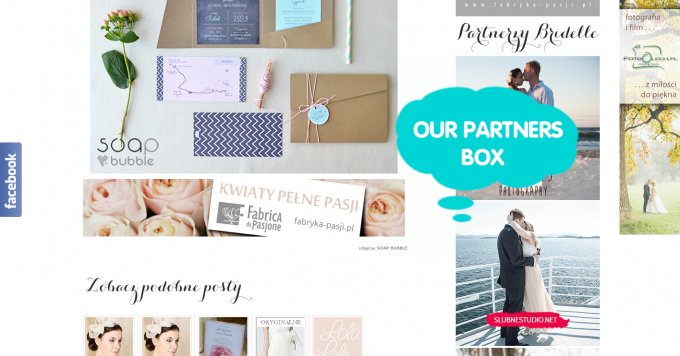 * * *
OUR SPONSORS BOX / MAIN PAGE

150 px x 300 px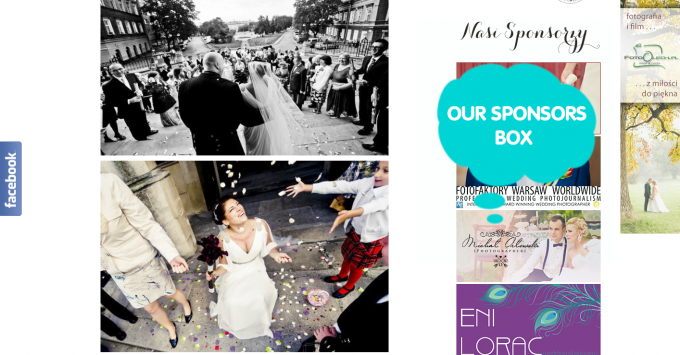 * * *
SPONSORED POST

content + links + pictures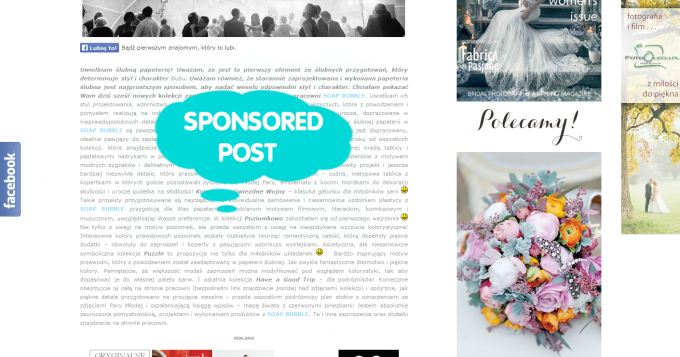 * * *
BRIDELLE'S BOX / EXCUSIVE CATEGORY

content + links + pictures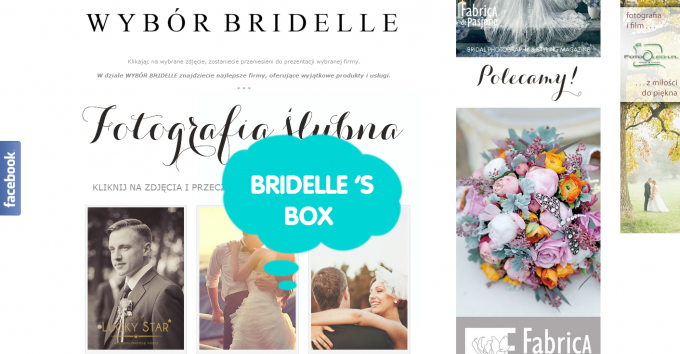 * * *
SKYSCRAPER / MAIN PAGE

133 px x 500 px
* * *
SMALL  BOX / MAIN PAGE

133 px x 190 px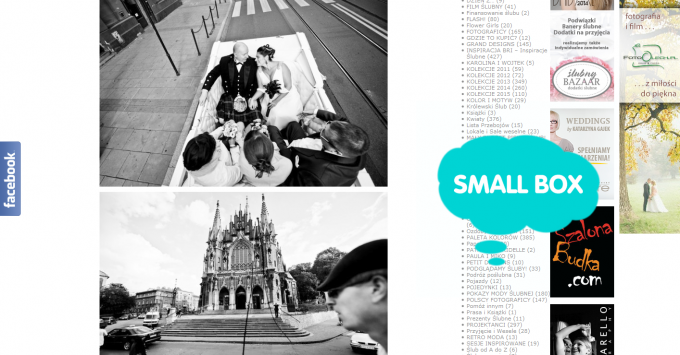 * * *
BOX IN WEDDING GUIDE CATEGORY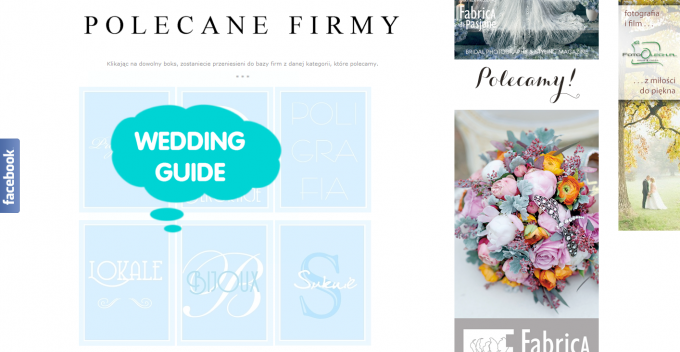 * * *
PRODUCT PLACEMENT IN PHOTO SHOOTS

Bridelle STYLE Magazine
www.bristyle.pl
* * *
If you have questions regarding the placement of an advertisement, write to us: reklama@bridelle.pl
* * *